On the About page of Run With Less, I've summarised in bullet points my journey from couch to marathon runner.
This post aims to breakdown the steps taken on the journey in more detail, to help others on a similar path.
The journey features meditation, minimalism, running for fitness & weight loss and eventually running for meaning, as I complete my first marathon.
Running – the start line
My Dad inspired me to get into running. He ran the first ever Great North Run in 1981 and the London Marathon in 1982.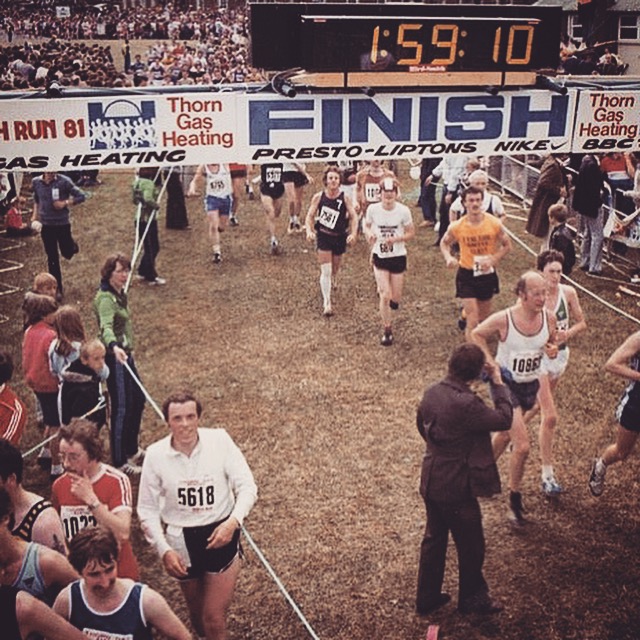 To celebrate his 60th birthday, I entered us both into the Great North Run 2017.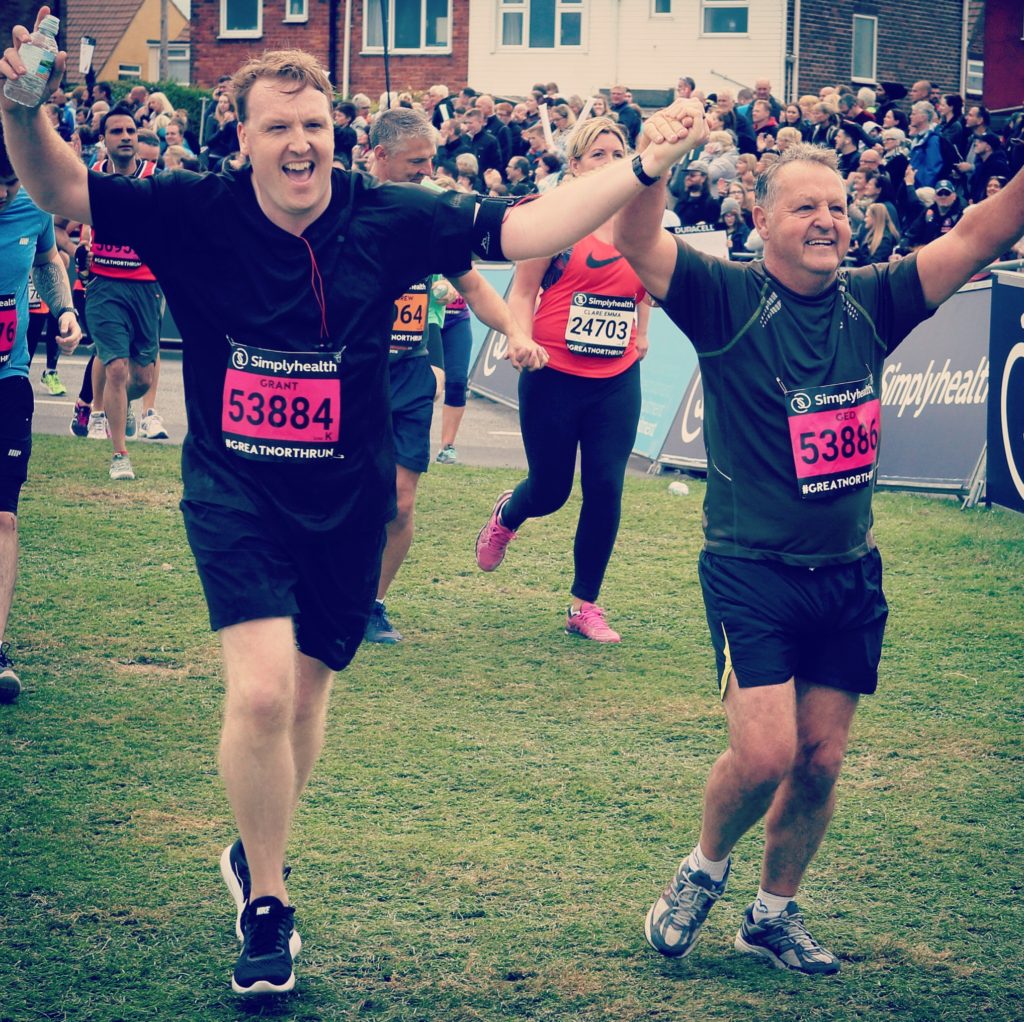 It was a special day and amazing to run & cross the finish line together.
My motivation is to inspire my daughter and family in the same way that my Dad inspired me.
Meditation
In February 2017, I downloaded the Headspace app on my phone and was introduced into the world of Meditation.
Without realising it, I started on a path that would eventually lead to running my first marathon.
Meditation started to peel back the layers and opened my mind to change.
Discovering meditation was a primer and an undercoat. Preparing for a change in mindset and mentality before I was ready to take action.
I went onto meditate 365 days in a row.
View the Meditation blog post for further details on this subject.
Minimalism
Around the same time I was making those initial first steps into running, I watched a documentary on Netflix that changed everything.
It was called Minimalism: A documentary about the important things.
It opened my mind and inspired me to simplify my life & focus on what truly matters:

Family & Friends, Health, Growth, Creativity & Contribution

It was a catalyst for change and has had a profound affect on every aspect of my life.

I started to streamline and simplify.

I found that by removing complication & distractions, it became easier to prioritise and focus on a healthier lifestyle. There were less barriers that would normally get in the way.

I removed all things unnecessary and kept only what is either essential, useful or brings joy.

I am in no doubt that keeping things simple has significantly helped my running progress.
Removing the excess helped to gain more time and energy, which allowed for space to plan and prepare.
View the Minimalism blog post for further details on this subject.
Weight loss

Weight loss has been a surprising and unintentional benefit of running, I didn't consider when starting out.

I was overweight (15st 1lbs / 95.9kg at my heaviest), a result of a decade of excess & indulgence, with very little exercise.

Following the Great North Run 2017, I was a regular at my local parkrun & noticed my 5K times were getting quicker. This motivated me to continue running into the winter months.

At the turn of the year, I built on this momentum and decided to quit takeaway food & take a break from drinking too.

In March 2018, I ran a 10K for the first time under an hour (56:04). My wife took a post-race photo and I didn't recognise myself. I later stepped on the scales for the first time in over 6 months and was surprised to find I had lost 2 stone and 6 lbs.

This was the moment that made me realise what was possible and how these small lifestyle changes made such a positive impact on my weight and overall health. It became my biggest challenge and sharpened my focus & dedication. This snowballed into healthier eating habits & nutrition, 3 runs per week, better sleep with more rest & recovery.

When my wife & daughter started coming along to parkrun on Saturday mornings to cheer me on, it made me double my efforts to promote a healthy lifestyle, inspire and make them proud.

By August 2018, I had lost 4 stone in total.
Running – progress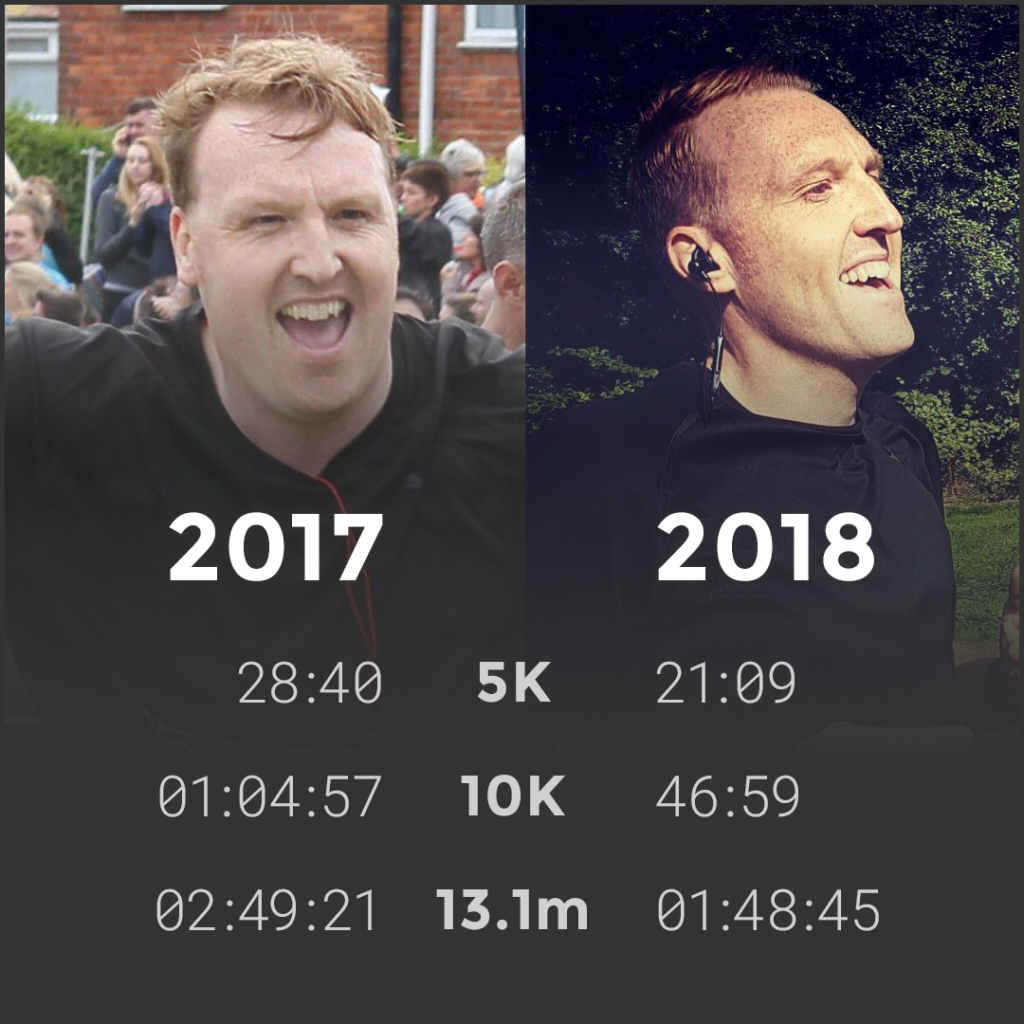 In September 2018, I ran Great North Run again, this time shaving 54 mins off my previous time from 2017.

In April 2019, I completed the Manchester Marathon in 03:48:14.

It was my first marathon. Only 12 months earlier, I ran a half marathon without stopping for the first time.

The purpose of training for a marathon was more than just running. It was to inspire my daughter and be a positive role model, showing her anything can be possible with hard work, dedication and a passion.

Simply Run With Less

I hope in sharing my experience it can inspire and help others in making those first steps towards a healthy lifestyle.

My one piece of advice would be keep things simple.
Simply #RunWithLess.