Welcome to Run With Less, Ian Mortimer.
Ian is an acclaimed Historian & Novelist, who has published 11 history books, 4 novels and most recently, a brilliant book about running called:
Why Running Matters: Lessons in Life, Pain and Exhilaration – from 5K to the Marathon.
I listened to the audiobook version in the lead up to the Manchester Marathon and it really resonated.
Ian, thank you. It is a pleasure to chat with you.
IM: My pleasure, thanks for asking me.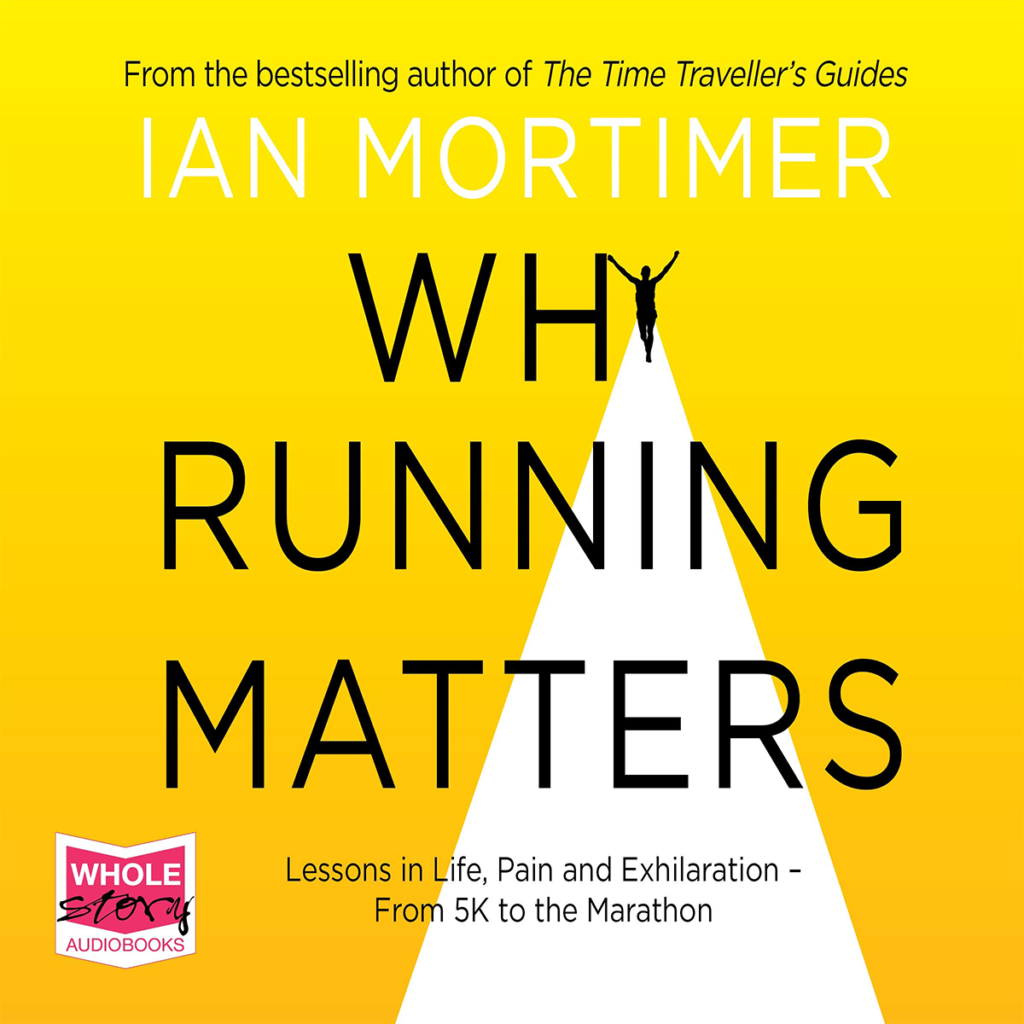 RUN…
RWL: Firstly, congratulations on the fabulous book. I loved it! Could you give the readers an introduction to what it is about?
IM: Thanks. It's about the things we learn from simply being ourselves and doing one very simple thing, namely running. That common experience allows us to see so much in life – not just in ourselves but in others too – from ambition to determination, pain and disappointment.
But it's about much more just the running. It's also about me turning fifty and building my relationship with my sons and reflecting on what I have learnt in the past – and what I still have left to learn. What we all still have left to learn, regardless of how old we are.
RWL: The book starts with a great quote below, you arrive at a different conclusion though?
"First you run for fitness,
Next you run for speed,
Then you run for meaning…"
IM: One day I'm going to make up some shirts with that line on the chest! I was just mentally fumbling about with the idea for this book until those words appeared. But to what extent do we run for meaning? We can run just for fun or fitness – and there's nothing wrong in that, of course. But if you look at the whole process with a curious, critical eye, you can find more going on: things you perhaps would not even have noticed.
It goes beyond simply being a meditative process too. For example, one chapter in November describes me stopping a racially aggravated fight on the street in Exeter. Why did I get involved? Because through running I learnt how to make myself determined to do things. I taught myself to overcome obstacles and get involved. I had empowered myself.
RWL: A big takeaway from the book is about running for meaning and running for others. How it can elevate your run and enrich the experience?
IM: My favourite runs are those when I drive off with a car full of family and friends and our 'team' all run their hearts out. My best birthday present last year was the fact that 4 out of the 7 people running with me all set PBs at Exmouth parkrun (not me, sadly).
To share something – even though it be an individual experience – is to amplify it. Imagine it is a beautiful bottle of vintage port: how much more rewarding it is if everyone can taste it. And talk about it. And reminisce. But a bottle of port is limited and there won't be enough to go around if there are too many people drinking it.
Running together is different. It is not limited. It's as big a bottle of vintage port as you need to go around! It's like a bank balance that grows according to how much you want to spend. Yes, that's a good analogy, for I am enriched by the wealth of experiences I can share in the course of a run.
RWL: I love that analogy. Running is not a limited experience and the more you share it with others, the better it becomes.
You parkrun with your two sons, Alexander & Oliver. Sharing running with your family was the part of the book that resonated most.
Do you have any tips for runners who enjoy sharing their experience with a son or daughter?
IM: Always encourage. Encourage them when there is a target, encourage them to run when they don't want to hit a target, when they don't want to get out of bed. Encourage them when they're up and raring to go – and encourage them when they're down in the dumps. Above all else, show you care.
RWL: My Dad inspired me to start running and I hope to inspire my daughter in the same way – so I could relate to both the father and son perspectives in the book. I've shared the book with my Dad and he is currently reading it too!
Is part of the book about leaving a legacy, by setting a good example for your sons? You talk about showing them, rather than telling them. They must be very proud of their dad, well done!
IM: Thank you, that's very kind. However, my 'legacy' – or what I consciously thought of as my 'legacy' – is a book called Centuries of Change (in the UK) or Millennium (in the USA; the UK paperback is called Human Race). In that book I examine the biggest changes in each of the last ten centuries – looking at 50 in all – and then explore what they mean for our future. I dedicated the book to my children and all my descendants. Unfortunately, it's been the least popular of all my mass-market history books. But it's the book I felt I was born to write – and the one of which I am most proud.
In some ways, Why Running Matters is similar, in that it is an attempt to pass on some wisdom. But it's less didactic, less about telling you the way things are and will be, and much more personal. I hope people use WRM as a key to unlock their own discoveries, not just re-rehearse mine.
RWL: In the book you describe how you took a trip down memory lane and run through locations of your childhood. Literally, jogging your memory! Could you share more about that special experience?
IM: The best runs are when the most unexpected things happen. I just set out to run around the neighbourhood in Bromley, South London, where I grew up.
I felt I was physically moving through my memories. A hundred thousand memories. I sometimes think about that folktale that people see their life flash before their eyes at the moment of death. Do a twenty-mile run around where you grew up having not been back for thirty or forty years and you will feel like your life is indeed flashing in front of your eyes – but in the moment of feeling more alive than ever, not at death's door.
RWL: That is really powerful, thanks for sharing. I'm going to plan a trip down memory lane soon.

Portsmouth Marathon, your first event at that distance, was a euphoric experience. Describing it in the top 10 days of your life?
IM: Again, the best runs are when the most unexpected things happen. I did not know whether I'd finish, have to walk, or manage to crawl to the end. But I ran slowly at first and then spent the whole second half going faster and faster. I am not sure what the opposite of a vicious circle is – a benevolent one? – but the faster I went, the faster I found I could go. Yes, one of the best ten days of my life.
RWL: Starting off at a controlled pace definitely helps avoid the wall, allowing for a strong finish. You also beat my marathon time by 2 seconds!
Any plans for another marathon in the future?
IM: I would love to do the London Marathon. I apply each year and get rejected but if I should get a place… yes, I'd definitely do it. Although I notice next year's race is on my wedding anniversary… At the same time, I have to be aware that I tend to injure myself through long distance training. I'm just recovering from my third stress fracture in three years – and I never run more than 125 miles a month. So, I will probably not launch myself at anything more than a half for the foreseeable future. From now on I am only going to train on courses that are 80% grass.
RWL: Why do you run?
IM: Easier to say why I didn't run until the age of 47. The answer to that is: because as a teenager it seemed like too much effort, it wasn't cool, I wasn't much good at it, and I was an artistic/bohemian poet and being drunk and dishevelled with a cigarette was what I did until age 27. After that I didn't run because I was busy, busy, busy all the time.
And then one day, 20 years later, I took a good long look at myself on what would have been my dad's 80th birthday (had he lived) and realised that he would have wanted me to take more care of myself. So I took up running to lose weight and regain some personal pride, and found I loved chalking up the challenges and successes, and encouraging others to do likewise – and spending that ever-increasing amount of emotional income that builds up when you run with other people.
RWL: Brilliantly put, it is amazing how so many people find running later in life.
How do you keep running simple?
IM: By never taking it too seriously. To regard other people's performances as more important than my own. A bit like feeding the family.
RWL: What advice would you give to someone making those first steps towards a healthy lifestyle?
IM: This is what I said about two years ago to someone who needed to get fit:
"Just go for a walk around the block – a mile or so. That's all. But time yourself. Do it again tomorrow and try to do it a little faster. Don't bust a gut. Then do it again the next day, and go faster.
Eventually you will have to start running occasionally to keep going faster. One day you will just run that mile. When you can't go any faster, make it two miles and set yourself a new target."
When I started running I chose a 3-mile route along the lanes and allowed myself to walk on the steep hills, and just tried to go faster and faster. I did, very quickly.
The best advice, though, is NEVER SET OUT TO GIVE YOURSELF A HARD TIME. Whenever I run these days, I set out just to jog gently. If that's all I am able to do, that's all I will do. But normally after about 30 seconds I want to do more than just jog. I want to run. So, starting out with the attitude 'never give yourself a hard time' takes the pressure off and allows you to do whatever you want.
RWL: Great advice. What is your next running challenge?
IM: To get fit again – to race Alexander (eldest son) at the Torbay Half Marathon at the end of June. I've just had 10 weeks of almost no running due to a stress fracture. Last Saturday was my first parkrun for 8 weeks and my first run of any sort for 6 weeks. I jogged around at Exeter in 23:41, my slowest-ever run there (of about 40).
RWL: Good luck on the road back to fitness. Why do you love parkrun?
IM: The people, the united yet different ambitions, the easy going attitude to different abilities, the measurement of performance allowing you to take pride in your achievement no matter what, the emotional income, the uplifting feeling of seeing people volunteer, the smiles, the mums and dads with kids, the smooth beauty of some very fast runners who make sub-15:00 seem effortless, the fact it was all one man's vision in 2004 – showing individuals can change the world, the fact it breaks down class and language barriers, the platform it gives us for talking about running…
RWL: Favourite parkrun course?
IM: In beautiful sunny weather – the grounds of a National Trust house like Parke, Killerton or Holkham Hall. Otherwise probably Exmouth.
RWL: Current parkrun PB?
IM: Exeter Riverside 19:47 (but that was in July 2016). Best this year is Preston Park, 20:36.
…LESS
RWL: There is a chapter in the book is called "A well-tailored life".

You talk about tailoring our lives to fit our personalities and not adopt an off the shelf lifestyle. Don't do what everybody else thinks is normal, be individual & do what is best for you. For example, you don't own a mobile phone, refuse to use a microwave and don't travel via aeroplane.

Could you share more thoughts on that?
IM: Ultimately we all make choices that are not about right or wrong but about creating a world in which we feel happy. If you don't make those decisions, you are inviting the world to make you uncomfortable. Like a would-be vegetarian having to eat meat when it is put in front of him.
I think that we can make our lives simpler and more enjoyable by ruling out (or in) certain things on principle. Rules are like walls, in that they are there to protect us and keep us warm. I don't eat meat; but I eat fish every day. I don't have a phone but I do travel with a laptop and use email. I don't fly but I do travel abroad (boats and trains mostly). I will have 10 no-drinking days a month and cook for the family at least 7 times a month, but I won't be pressurised into doing anything I really don't want to do.
One of the best parenting ideas I ever had was when my three children were very young and one said he did not want to eat mushrooms because he didn't like them. 'Okay', I replied. You may choose two things that we will never force you to eat under any circumstances – whether we are at home, out at a restaurant or even having dinner with someone important – as long as you always eat everything else on your plate.'
All three agreed to this deal. We called it their 'list' (even though it was just two things). It worked. Each child could only change an item on his/her 'list' by eating the item they wanted to remove three times; after that they could replace it with something else they hated more. Allowing our children to tailor their lives by just having a few key things they never had to worry about made their lives a lot, lot easier. And ours.
RWL: Great idea, constraints encourage creativity – and make your life easier. Minimalism is often referred to as living a well-curated life or intentional living. Are you familiar with Minimalism?
IM: Only in the broadest terms. No one who saw my house would call me a minimalist – with about 5-6,000 books, 9 guitars, 700 LPs, 700+CDs, 3 cats, etcetera.
RWL: As a historian, a major part of your life is concerned with time. It's often considered to be the most valuable asset. How do protect and prioritise your time for the important things that matter most to you?
IM: By ignoring all the things that don't mean that much to me! I work all the time I'm not doing something more interesting – by which I mean I write or do research most of the day and evening. I don't watch TV. But also I tend to think in terms of time, and to see things in historical ways as well as visual ones. Everywhere I go and everything I look at, I see it as if it's the top of a crest of an 950 year-old temporal wave that is always coming at me. It's like living in the present moment but 'the present moment' actually being a slow-moving millennium.
RWL: Which one possession do you treasure most, sparks the most joy and why?
IM: I've tried hard to answer this question and I cannot. Probably my house, which is medieval and great fun to live in. There is one piece of furniture that, if I were to lose it, would cause me more grief than anything else that I can imagine losing, with the possible exception of the tin trunk of my family's archives. But there are possessions I enjoy more.
Very simple things cause me enormous pleasure. Walking from my study into the very old part of the house where the library is, and lifting a book off the shelves to look something up. I can't describe to you how much joy that gives me, every glimpse and every step of the way, nor can I easily explain why it is so.
RWL: Do you keep all of your medals & finisher t-shirts or curate the best ones?
IM: The shirts are in a big pile on a shelf that is normally raided every day, for exercise wear. The medals all hang from a big hook inside the 17th-century inglenook fireplace in the library.
RWL: How do you make your life simpler?
IM: By concentrating on what I want to achieve.
RWL: Which book has had the most influence or impact on your life?
IM: I presume you mean a book by someone else? Obviously it's a little different for me. If that's what you mean, then four. James Clavell's Shogun, which I read when I was 15; Pasternak's Dr Zhivago, which I read when 19 – both of those for the enormous ambition of the historical fiction – and prof Chris Dyer's Standards of living in the Later Middle Ages. But I have to add Tolkein's Hobbit which I used to read under the bedclothes by torchlight when I was about 10.
Undoubtedly the book that has changed my life more than any other is my own The Time Traveller's Guide to Medieval England. I met my wife, Sophie, at a meeting to discuss it in 1995. It went on to sell half a million copies worldwide and allow me to become a full-time writer, and to escape the tyranny of research-driven work and to start to look into understanding the meaning of history.
RWL: You can add one word onto the end of the phrase 'Run With Less'. What would you choose?
IM: Time.
RWL: Where can people find you online?
IM: My web site ianmortimer.com and at twitter @IanJamesFM.