Welcome to Run With Less, Anthony Ongaro.
Anthony is a leading figure in the simple living & minimalism community.
Anthony is the guy behind Break the Twitch, which is a YouTube channel, book, podcast and online community helping others to minimise distractions and do more of what matters.
After listening to the Break the Twitch audiobook last year, I cancelled my Amazon Prime subscription, turned off unnecessary mobile notifications and generally become more intentional in creating new habits & routines that helped towards building a healthier lifestyle.
Anthony, thank you for inspiring me and joining us today, it is a pleasure to chat with you.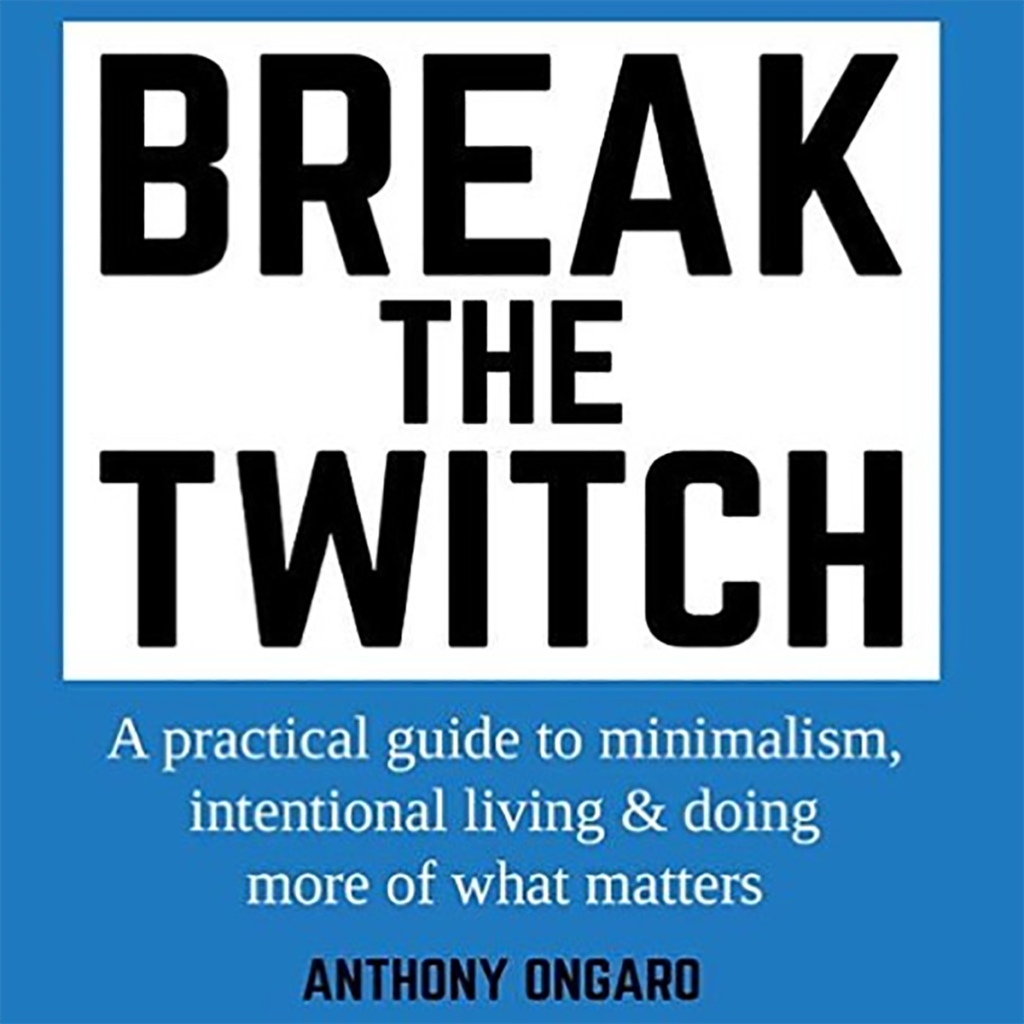 RUN…
Run With Less: For the benefit of new readers, could you describe your origin story and what is 'the twitch'?
Anthony Ongaro: In my early 20's I spent a lot of time (and money) on Amazon.com – with the introduction of 2-day shipping and millions of products beyond books, it became so easy to click that "one-click purchase" button. Mostly, it was small, but frequent purchases. Cables for things, gadgets and electronics, etc. But after years of this becoming a regular thing, the pattern of constant brown boxes on the front porch started to get rather troubling. While we were earning a good living, it seemed like I kept just squeezing by each billing cycle. And the things I always dreamt of doing, like traveling and having more financial freedom were further away than ever. Something had to give – so I ended up pulling four years of my purchases from Amazon and did some detailed analysis.
It turns out, small but frequent can add up to a lot over longer periods of time. Long story short, I saw the traveling, time with family, and savings all right there in front of me—but instead of having those things, I had a list of things, most of which I didn't even remember having.
That led me to realize that this action of one click purchasing was more of a physical "twitch" than an intentional choice. A short circuiting of sorts, that took me from "want" to "have" in a split second. That's where the Twitch comes from, it's an unproductive, impulsive response to discomfort. It solves the discomfort temporarily, but doesn't actually solve the problem.
RWL: In the opening chapter of the book, you purchase a heart rate monitor and sports watch to help you run. It didn't go to plan?
AO: I've always had a backburner dream of being a runner. The real problem was that I tried to become a runner in every possible way other than the one that matters: actually running consistently.
Shoes, heart rate monitor, sports watches, the works. Each thing along the way made me feel like it would help me actually get out there and put feet to pavement. I felt inspired for the first couple days of having the new watch, but the motivation quickly died. I later realized that these purchases were what I call False First Steps.
In reality, through my various attempts, I've found that I'm a much better cyclist and weight lifter than my body works for running. I've learned to be okay with that.
RWL: Could you describe the 'False First Step' in a bit more detail and how a runner could fall into the trap?
AO: False First Steps, are things that make us feel like we're taking action towards a goal, but in fact we're just spending money and adding clutter to our homes.
It's buying instead of doing. We try to outsource our effort because retail brands tell us who we'll be when we own their stuff, instead of who we'll be based on what we do.
It's totally reasonable to buy new gear to enhance your running, or whatever it is you're doing, but I've found it's best (and most satisfying) to have a habit in place before making such purchases.
RWL: So you don't need all the gadgets and clothes when you are starting out. They could become a barrier that prevents you from actually taking those first steps?
AO: Correct. In a way, the false first step isn't just a waste of money—it kind of tricks your brain into feeling a sense of accomplishment. When you feel like you've accomplished something towards your goal, you don't feel the need to go out and make some actual progress.
So not only does it waste money on the initially unnecessary, but lowers motivation to take real action as well.
"False First Steps are things that make us feel like we're taking action towards a goal, but in fact we're just spending money and adding clutter to our homes."

Anthony Ongaro, Break The Twitch
RWL: In the book, you talk about avoiding paying upfront for access to products & services, such as an annual gym membership that rarely gets used. Running is free. Is running the simplest form of exercise?
AO: I'm pretty certain running is the simplest form of exercise for most able-bodied humans. It's as organic as it gets. Some bodies are made better for it than others, but I don't think there's anything that really gets simpler than that.
The gym study was really interesting to find. Especially for those motivated by money and savings, it was found that people felt making a large upfront financial commitment to a gym or other health program was a way to guarantee they continued it. In actuality, making monthly or per-visit payments ended up saving money and causing the subject to go exercise more frequently. Basically, even if it costs more to pay monthly, it's better for you long term if you're struggling to keep up the habit than paying annually, or less frequently.
RWL: What advice would you give to someone who is thinking about starting running for the first time or making a change to a more healthier lifestyle?
AO: Take this with a grain of salt because I've never made it to what I'd call "runner" status. I think I managed a 28-minute 5k time at one point, but with that being said: You're probably going to start going too fast, too hard, and it's going to feel bad.
Exercise is a lifetime activity and it only works when repeated with frequency. So slow down, don't try to run so far or so fast so quickly, and enjoy the process. The worst way to build a habit is to burn yourself out and be so sore that you simply can't continue in the following days.
If you want to start running, see how walking feels first. Give your muscles, tendons, and other body parts time to adjust and grow to fit your new activities and then increase from there.
RWL: Great advice, slow & steady consistent progress is a great way to build up fitness.
When I first discovered the Break The Twitch YouTube channel, I remember there was one video that stood out and was particularly helpful. The video is called How To Care Less About What People Think. When you're starting something new, like taking up running, you can often feel self-conscious and worried what people think when they see you run. The video perfectly illustrates how people are too concerned with their own lives and don't actually care. It was quite freeing and a helpful watch, thank you.
Do you have any more thoughts on this video?
AO: Digging into the archives! I love it. That video was a big one for me because I hadn't done an experiment like that before. It was actually really uncomfortable for me at first, only to realize your same conclusion: no one really cares. We tend to project overconfidence onto the people around us, and assume that they're not also dealing with their own insecurities, financial troubles, health struggles, and more.
I think the only thought I'd add at this point, is that we can't pretend to know what someone else is thinking at any particular moment and we certainly should work to not let those thoughts control our lives in any significant way.
I'm still working on this though, always a work in progress.
RWL: I like the video: Life is not a marathon. As there is no finish line, it is more of a continual daily practise. Could you unpack that for the readers?
AO: This was one that hit me hard—we tend to assign goals and finish lines to things in our lives, especially around fitness, weight loss, and other health related things. The problem with that is as soon as we stop doing the things that got us to the goal, we lose what the goal gave us.
For me, it was really just a realization that I needed to stop focusing so much on the results and create goals around actions instead.
RWL: Action-focused goals help create good habits.
You shared your simple morning routine. This was from 2017, has anything about your routine changed since then?
AO: There is certainly nothing magical about my morning routine, and most of it has stayed consistent. Still making coffee, feeding our dog and taking him for a walk, things like that. Now that it's spring I'm taking a little more time in the morning to go outside and absorb some sunshine for a little bit before starting the work day.
RWL: You have started weight lifting over the past year. Could you tell me a bit more and how consistency has aided your progress?
AO: This is a tough one for me to answer right now because I've been working on recovering from a recurring injury I've been dealing with. Over the course of a year, I saw my squat go up about 160 pounds, my bench press up over 75 pounds, and similar results on other lifts. I got stronger than I've ever been in my life. That ended about 4 months ago, because I've had to substantially drop weight while I recover from this particular back injury. Turns out, even though I focused on relatively slow steady increases, it was too fast for this 33-year-old body. I'm taking it easy and working on building back up now, though.
RWL: What is your proudest achievement?
AO: I probably view this differently than the rest of the world might, because I don't think I have many achievements in terms of awards or recognition. But I'm really proud that I've build a life right now where my wife Amy and I can work together full-time, and do work that seems to have a positive impact on the world. Getting notes from folks that have seen improvements in their lives because of something we've created feels like the best achievement I can imagine.
RWL: Thank you Anthony, that is such a great answer. You have certainly had a positive impact on my life. Hopefully, the readers will find great value too.
…LESS
RWL: You first became aware of Minimalism after being invited to a simple living conference, where Joshua Becker was speaking?
AO: It's funny, in a way, minimalism put a name to something I had been wanting and thinking about for quite a while. It was a lucky strike that I volunteered to host some speakers for that particular conference and one of them happened to be Joshua. His perspective proved to be invaluable in our own pursuits of owning less and guiding our lives in a different direction.
RWL: In December 2014, you started simplifying by playing the #MinsGame with your wife Amy and between you shed over 1000 items. Could you describe how the #MinsGame works and your experience of it?
AO: Minsgame is definitely the best way to get started decluttering if you're struggling with building momentum in the process. It's short for The Minimalist Game, and it's really simple: declutter one thing on the first day, two things on the second day, three on the third, etc. Keep it up for a month and you'll get rid of about 500 things.
It's so effective, because you build up your decision making muscles as you go. By the time you get to day 15 or so, you find yourself making these "yes or no" decisions much more confidently.
That's usually what holds people up—lacking the confidence to make a choice about what we do and don't actually want around.
RWL: What has been the biggest benefit you have experienced since living more intentionally?
AO: It's hard to just choose one. Most recently, I recognized our choice to own less really helped us in our move across the country. After loading up a truck with all of our worldly possessions, we had mechanical problems about 6 hours from home. We ended up having to swap trucks, unpacking one and loading it all into another.
In that moment I was immensely grateful for all the things we no longer had.
RWL: What has been the most difficult item to let go of?
AO: I know this probably isn't the answer you're looking for, but I've found that life has guided me through the process of decluttering. Because of that, nothing has really been overly difficult.
I've learned to not force the process of decluttering and allow the moves and decisions we want to make elsewhere in life direct that process instead. That means I'm not making hard decisions about what to get rid of, instead the desired outcome almost always outweighs the thing that I'd need to let go of to achieve that outcome, so it makes the process much easier.
I hope that makes sense.
RWL: What advice would you give to someone who is discovering minimalism for the first time and interested to become more intentional?
AO: Just like exercise, habit change, eating better, etc, minimalism is a process. It's a lifestyle change more than a status to achieve. Nothing substantial is going to happen overnight—so take your time, and start editing day by day. Play the Minsgame, see how it feels, explore what owning less stuff actually does for your day to day life, and go from there. Be kind to yourself—this is a lifelong practice of living well.
RWL: You are currently moving home, from Minneapolis to Phoenix and selling almost everything you own. Has simplicity helped you with the moving process?
AO: The last five years of streamlining possessions has been immensely helpful. From the packing process, to loading a truck, to RE-loading a truck, to unpacking. Selling our house, staging it for the sale, every step of the way would have been so much more complicated. I'm so grateful we started when we did, because it was already difficult—I can't imagine how much harder it would have been.
RWL: In the moving home video, you reiterated the goal for moving is not to become more minimalist?
AO: It's easy to create these gate-keeping type titles for ourselves and others. I don't think the goal is ever to be a minimalist. It's to utilize minimalism as a tool that gets you closer to where you want to be. There's no award for owning the least amount of stuff. There's no Board of Minimalism Certifications that let you in once you reach a certain point.
It's just this weird, dynamic, life that we get to keep living each day (for as long as possible). I've found it's better with less clutter.
RWL: I love how Minimalism looks different & unique for every individual person. What other flavours of Minimalism have you seen that have inspired you?
AO: I find people that live out of a bag or two pretty inspiring. I simply couldn't do it—my video equipment itself takes up three huge pelican cases by itself. Maybe one day, we'll see. The trend of the last five years for us has been less, less, and then, less. Maybe I'll figure out how to condense my video kit into a single carry on bag. Until then…
I love minimalist design. I think there's something beautiful about it, although I don't consider myself to be a very good designer, much less minimalist designer. That's why it's inspiring to me, I suppose.
RWL: What does your meditation practice look like now?
AO: I wear a 108-bead mandala on my wrist every day and do my best to let it be a reminder to stay present in my activities every day. Sometimes it looks like closing my eyes and taking in one deep breath and exhaling it into the atmosphere.
I haven't been sitting down and meditating for a set period of time in a while, which reminds me that I should do that again.
RWL: How do you make your life simpler?
AO: Make as many choices that align with your core values as possible. Work to slowly and sustainably remove the things that get in the way of your ability to make those choices.
RWL: What one book has had the most influence or impact on your life?

AO: I hate that it's this book, but the honest answer is the 4-Hour Work Week by Tim Ferriss. I have no desire to only work 4 hours per week, so it has nothing to do with that. But it did help this college dropout realize that there was more to life, and I could still do meaningful work despite struggling through a traditional learning environment.
RWL: Season 2 of the BTT podcast has just finished. I particularly enjoyed Patrick Rhone, Cait Flanders & Joshua Becker episodes. Do you have a favourite episode since the podcast started?
AO: Thank you! Those are definitely some of my favorite episodes as well. I think Episode 15 with Thompson Aderinkomi and 17 with Alex Pagliere were some personal favorites, but it's honestly hard to choose. I always seem to take away at least one solid learning from the guests we have.
RWL: Tell me more about your online community?
AO: When we launched the podcast, we didn't want to seek out financial partnerships with other brands and companies. So much of changing the way you live is made easier when there's a strong community in place to see how other people with similar mindsets are making their own decisions as well.
That's why we created the BTT Member Community. There are tons of audio series, a Slack channel for members, and more. It's been a great way to gather folks around a core idea, while allowing us to cover some of the expenses of producing a two-camera, in-person podcast like we do for Break the Twitch.
Really looking forward to Season 3!
RWL: You can add one word onto the end of the phrase 'Run With Less'. What would you choose?
AO: Honestly, I wouldn't add anything because I think it's perfect as it is and says just about everything that needs to be said. But, that is surely not in the spirit of the question so I will say: Fear.
RWL: Where can people find you online?
AO: Everything we do can be found at www.breakthetwitch.com or @breakthetwitch on social media platforms.