On Sunday 7th April 2019, I completed my first marathon in Manchester, in a time of 03:48:14.
I ran the marathon to inspire my daughter and be a positive role model, showing her anything can be possible with hard work, dedication and a passion.
It was the culmination of two years hard work, starting from zero fitness. Only 12 months earlier, I ran a half marathon in full without stopping for the first time.
This post revisits the training process and race day experience in the hope that sharing what I learnt can be useful to others, particularly someone taking on their first marathon.
TRAINING PLAN
The best thing I did was invest in a decent training plan.
From the vast array of marathon training plans available online, I opted for a Ben Parkes Improver training plan, as it's well structured & easy to understand. I value his knowledge & experience – he achieved a 2:25 at Valencia Marathon.
The training plan was challenging but built up sensibly so confidence & fitness grew steadily and at no point did I feel the training was beyond me.

The plan includes a great pacing chart, so every session has a recommended pace it should be run at for your finish time.
Be sure to check out Ben's YouTube channel (YouTube.com/BenParkes). It is a great resource that has taught me a lot about running.
Some of the most useful videos I found included How to run a faster 5K, 2:25 PB Valencia Marathon highlights, Ben shares his Garmin watch screen setup, Heart Rate Zones and the art of a self-timed running selfie.
VO2 MAX
One of the most valuable experiences was the very first marathon training session.
I kicked off the training plan with a VO2max & Lactate Threshold test at Teesside University. The test itself cost £100 with a detailed report, and I paid an extra £50 to get an analysis of my blood work & body composition.
As Manchester was my first marathon, I didn't have any finish time expectations or a previous marathon time to compare against.
There are methods of using Half Marathon (1:48:45) or 10K (46:59) PBs to give a rough estimate. However, a VO2max and Lactate Threshold test gives an accurate indication of the body's current capacity and what could potentially be achieved.
Following the test, my VO2max score was 56.3. This was surprising as my Garmin watch had been around 50.
The valuable information captured included maximum heart rate, so that my heart rate zones could be calculated:
Zone 5 (90-100% of maximum) 176–196 BPM
Zone 4 (80-90% of maximum) 157–176 BPM
Zone 3 (70-80% of maximum) 137–157 BPM
Zone 2 (60-70% of maximum) 118–137 BPM
Zone 1 (50-60% of maximum) 98–118 BPM
Most importantly, my lactate threshold (point of no return) was calculated at 176BPM and my 5K-10K 'race pace' of 4:37/km. Running at a faster pace beyond this, causes the upward drift of the heart rate.
The test showed that a sub 4 marathon was within me. This gave me a great deal of confidence and set the tone for the rest of the training.
BALANCE
The most challenging aspect of marathon training was achieving balance.

Finding the right balance with family, work and other commitments as the demands of the marathon training increased was quite difficult.
When in the midst of training, it can become all consuming and can dominate your life. When you're not running, you're thinking about running or in a state of recovery & foam rolling, stretching, having an epsom salt bath or trying to get an early night.
This is something that wasn't anticipated when entering the event. Family is always the no.1 priority and it's so important to be mindful of maintaining balance.
In February, I was out injured for 11 days with a muscle strain in my chest. This was hugely frustrating & I was definitely grumpy for a few days. It was the longest I went without running in 18 months.
The time out injured actually helped to readdress the balance and bring everything back into alignment. It coincided with some bad weather. I managed to avoid icy running conditions and instead enjoy some snow & sledging fun with my daughter.
The second half of February was a great learning curve. I learnt how to safely return from injury without too much risk. A recovery period of easy paced running, built gradually from 3K, 5K, 6K, 8K, 10K to a 24K long run.
RUN FOR MEANING
During March, I was able to share my marathon journey with my family. We ran parts of my training long runs together.
It took on a greater meaning and become more than just training for a marathon.
It was about creating memories together, capturing them with video, inspiring my daughter and making my family proud.
There were 3 long training runs in particular that stand out:
32K – I met up with my Dad, now 62, and we run the last 5K together
34K – My wife & daughter joined me to run the first 2K together.
38K – My longest training run. It incorporated a 10K event, the Resolution Run, where my daughter was able to join me at the finish and we crossed the finish line holding hands together.
These special runs were captured in video and featured in a 60 seconds highlights reel of my marathon training:
This was underlined, by a book I was reading at the time. Ian Mortimer's Why Running Matters. An ideal book for running dads, Ian charts his running journey as he turns 50 whilst running parkruns with his two sons and finishes the year running his first marathon.
The book was a timely read during my training. The quote below from the book, perfectly sums up my journey:
First you run for fitness,

Next you run for speed,

Then you run for meaning.

Ian Mortimer
The Friday before race day, I reaffirmed and reconnected with my reason for running. I spent a perfect afternoon with my Dad and Daughter. My Dad inspired me to get into running – he ran the first ever Great North Run in 1981 and the London Marathon in 1982. I hope to inspire my daughter in the same way.
RACE STRATEGY
My mission was written on the side of my Lucozade Sport bottle in sharpie pen "INSPIRE GRACE".
It would serve as a visual cue if the wall came, to remind me of my reason for running.
Fortunately, the wall didn't come. I did look at the words regularly and this kept me focused.
My prepared race strategy was quite simple.
One common mistake I often hear is starting the race too fast. To avoid this, for the first 5K I took it easy at a slower sub4 pace of 5:40/km.
From 5K onward, I ran at 5:20/km pace, which I spent most of my training at (target time of 03 hrs 45).
Then depending on how I felt, I would give it everything I had for the final 5K.
0 – 5K – 5:40/KM (SUB4 PACE)
6 – 36/K – 5:20/KM (3:45 PACE)
37K – GO
VASSOS AT THE START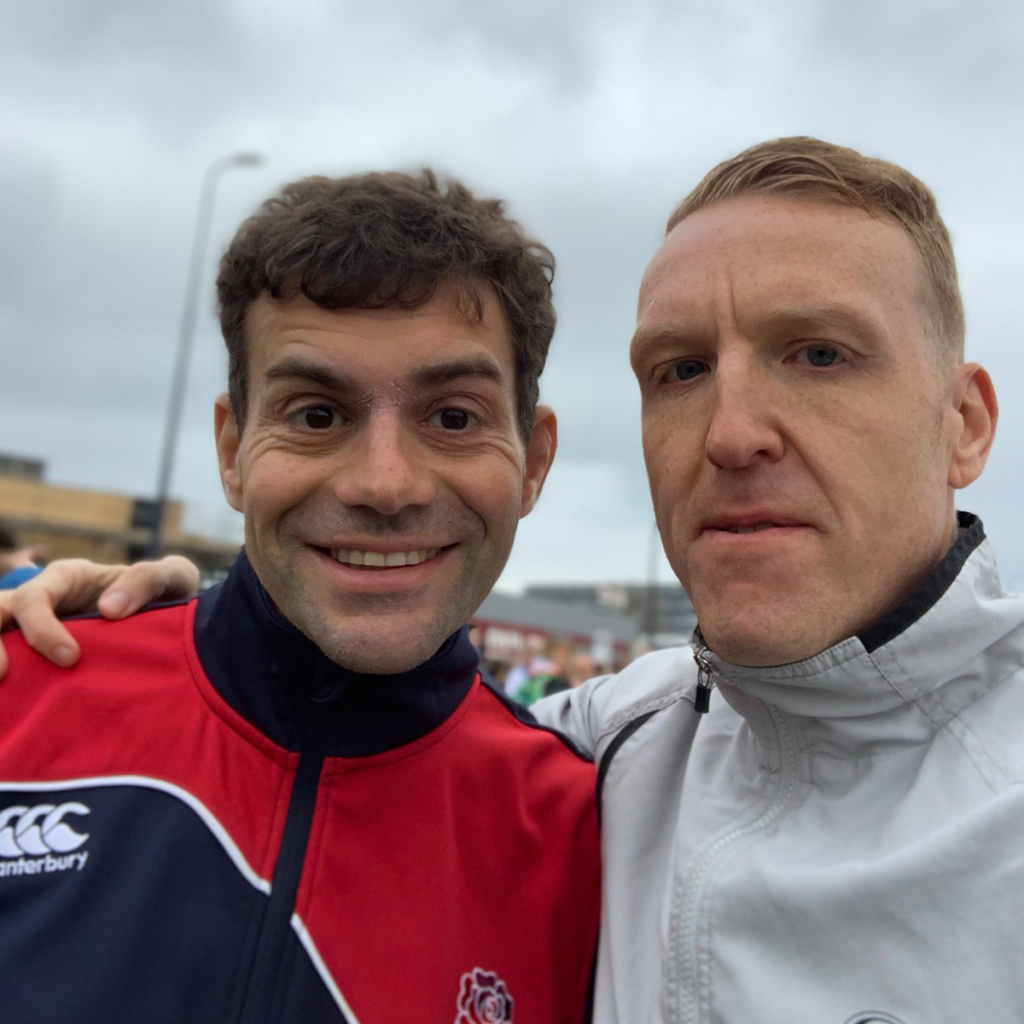 It was great to chat with Vassos Alexander at the start of the race. Vassos is the host of the parkrun podcast Free Weekly Timed.
Vassos has been a great source of inspiration in my running journey. On my long training runs, I have listened to both of his books – Don't Stop Me Now and Running Up That Hill. I've also listened to Chris Evans' marathon diary book Call The Midlife, which Vassos narrates.
LAST 10K DEDICATIONS
After reaching the end of the training plan, I reflected on the 11 days out injured, how difficult it was and how amazing it felt to be able to start running again. I used that sense of gratitude & appreciation on race day.

I remember being inspired by The Welsh Runner and @meeliesmarathons posting about dedicating each mile of a race to someone important. This resonated and felt appropriate to give thanks and appreciation to special people who helped me during my marathon journey.
So for the last 10K of the race, I dedicated each km to someone special.
Whilst running, I recorded an Instagram Story video message at each km.

View the 10K dedications in my Race Day Instagram Story.
Time was never an issue. At 30K, I knew that a sub4 time would be comfortably achieved and it gave me a bit of leeway.
It seems counter intuitive and recording a video message may take a little longer and slow your pace down, but it actually helped a great deal in getting through the later stages of the race.
I only thought about the current km ahead and who that was dedicated to. After the message was recorded, it was about getting to the next km as quickly as possible to record the next one.
THE LAST 2K
My actual split times were executed quite close to the race strategy.
The only deviation was going all out for the last 2K instead of 5K and then an eyeballs out sprint finish with everything that I had left.

0 – 5K – 5:40/KM (SUB4 PACE)
6 – 40K – (3:45 PACE)
41K – GO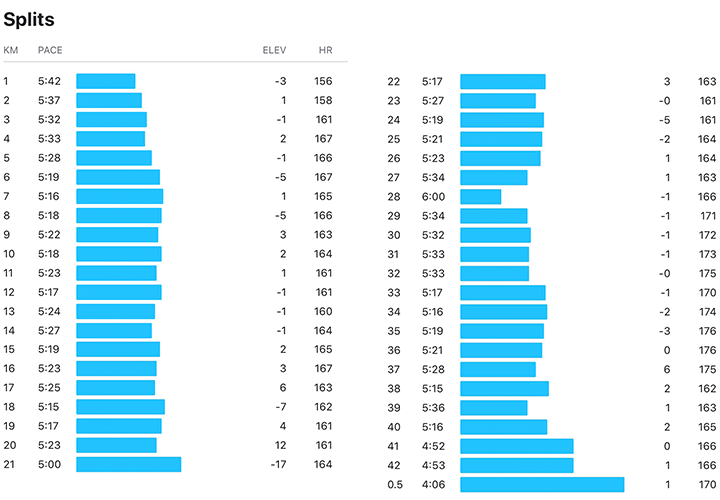 FINISH LINE
What a feeling to cross the line and become a 'marathon runner'.
If I don't run another marathon, I can be content and satisfied with my experience.
Whilst I was delighted to achieve a sub4 time at the first attempt, it was never about time. I found greater meaning.
I have taken the family marathon baton from my Dad. Hopefully, I can pass it onto my Daughter in the future.
Most importantly, I got to share and experience, not only race day, but the full marathon training journey with my family.
You only ever get your first marathon once.
I wouldn't change it in any way.