Welcome to Run With Less, Anna Harding.
Anna is Content Lead on The Running Channel, a YouTube channel with great advice, hints and tips. It is a particularly helpful resource for new runners.
Updated consistently each week, the content is well curated and kept simple and straightforward to understand. It is entertaining too and comes highly recommended!
Anna, it is a pleasure to chat with you.
AH: Thanks!
RUN…
RWL: When you first started running did you try Couch to 5K (C25K)?
AH: I've never done C25K! I just went for it! I signed up to a marathon and downloaded their beginner plan. Then I joined a running club where I lived in Yorkshire and just got stuck in with them!
RWL: Amazing, what great progress in such a short time frame. A Yorkshire girl, how long ago did you move to London?
AH: Well technically I'm not a Yorkshire girl – although when I left to move to London I was given an 'Honorary Yorkshire Lass' mug by a very good friend of mine, so maybe I am? I'm originally from Kent, but have lived in many places because of work, including Newcastle for 7 years. I've been in London just under 2 years now and really enjoying it – especially the running scene.
RWL: Tell me a bit more about your life before moving down south?
AH: I worked in radio from the age of 16. I started at my local radio station in Warwickshire and then went on to study broadcast journalism at university in Nottingham. I loved the idea that I could get paid to talk for a living! As I mentioned before, my work took me to Newcastle where I spent many happy years. Work took up most of my time though and I didn't really have any hobbies. I only started running after a long-term relationship broke up and a good friend of mine was murdered in a one punch attack. It was an incredibly difficult time. I struggle managing my stress levels and when I took up running I found it a little easier, although I still find it tough to relax.
RWL: Do you miss the Yorkshire countryside?
AH: Absolutely! I wasn't in Yorkshire for that long but when I was I was living right near Ilkely Moors with the stunning Cow and Calf rock formation. There were plenty of woods around too and I loved running and waking and exploring it all. The friend I lived with there had a dog so we would often go on little adventures into the Yorkshire countryside on a weekend.
RWL: So you have an appreciation for Cross Country then?
AH: I think Cross Country is great! Although if you asked me during a race I'd talk you otherwise! I'm not very good at it and find it really tough. But that's the beauty of it. I love the mud, the sound of the stampeding footsteps at the start (especially the super speedy men) and seeing all the club colours. There's a real sense of camaraderie at Cross Country.
RWL: You're now a member of Serpentine Running Club. For anyone who is new to running and not tried a running club before, what is it like to be part of a club? Did the club help socially when you moved to London?
AH: I am indeed a Serpie. Being part of a club is what you make of it. Some people join and never go to sessions. Others go to everything they can! For me, my staple is track night on a Tuesday. It pushes me to run with faster people and ultimately I think it makes me a better runner. I also enjoy the social runs they put on and there are loads to choose from. From casual evening runs to longer weekend ones, hill sessions and off road trail adventures. There's loads! And not only that, but there's a great social aspect to it too, with a book club, recommendations for lots of running-related activities and get togethers after races. I got involved with the Serpies a few months after moving to London as I was still a Saltaire Strider for a while, so they weren't really on my radar at the time I moved down.
RWL: Why do you run?
AH: That is a great question! Because I can. Because of the way it makes me feel. Because I can prove to myself I am capable of much more than I thought I could be. Because it's a great way to meet new people and make lifelong friends.
RWL: How did you find your first Marathon?
AH: I loved it. It was emotional because I did it in memory of my friend Robert Bavington, who was murdered when he was 28. He had a great outlook on life and when he died we coined the phrase 'Be More Bav'. Bav, as he was known, did whatever he put his mind to. And so I decided the time was right that I would put my mind to running a marathon. So I did. I also tweaked my ITB at mile 16 and found the last 10 incredibly tough to hobble round. But it was such a huge sense of achievement afterwards. I'm sad I'll never experience my first marathon again. I didn't appreciate at the time (and still don't really now) how far I came in just 4 months of running.
RWL: Sorry to hear about your friend.
To run a Marathon after 4 months of running is incredible. Is that your proudest achievement?
AH: I'm not particularly good at being proud of myself, so if I had to pick something, I suppose yes, it would be. But I've never really given it much thought!
RWL: Any Marathon tips for anyone doing their first?
AH: The main thing is don't get hung up on a goal time. There are so many variables on the day that even just completing it (and all the training leading up to it) is an achievement enough. Enjoy it as much as you can and take it all in.
RWL: Great advice, What is your next running challenge?
AH: I have a number of half marathons this year. I'm 'racing' Paris Half Marathon – although life / work got in the way of training so I'm not holding out much hope for a time.
Then I'm pacing my sister at her first half marathon since having a baby 6 months ago at Coventry Half. I'm also an official pacer at Paddock Wood Half and I'll be running Brighton Marathon too.
After that I have a few other, slightly more off the wall events lined up too including running the Vitality London 10,000 in my underwear as part of an amazing campaign by the Celebrate You squad, lead by the journalist Bryony Gordon, to promote body confidence.
I'm also doing the Redbull Quicksand 1 mile race on the beach at Margate again this year. I did it last year and it was so hard! It's only a mile, but it's a mile of running sand and clambering up man-made sand dunes!
And then I have 2 24 hour team relay events – Endure24 in Leeds which is 5 mile loops as a tag team. And the Ragnar Relay along the white cliffs on the south coast. I did it last year too and made friends for life. You're a team of 10 split into 5 people in 2 vans and basically run 170-ish miles split over 3 legs each throughout the day and night, finishing in Brighton. It's so much fun!
RWL: Good luck for Paris. You have completed an Ultra Marathon too. How did you find your first Ultra and any plans for more in future?
AH: I did Race To The King in June 2018. 54 miles from Arundel to Winchester along the South Downs Way, non-stop. It was tough! It was nothing like running a marathon. I like to describe it as an all day picnic. You have checkpoint stops every 10k or so. The event was so well organised – Threshold Series who put it on, along with a number of other ultras, think of everything! I remember getting to the top of an enormous hill at around 30 miles where I met my mum for a change of clothes (it was boiling hot and I was soaked with sweat) and crying at her that I couldn't do any more. But I did and crossing that finish line was insanely emotional. Full of relief and disbelief that I'd actually done it. The blisters though were like something I have never experienced before. It took a while for those to heal.
RWL: What advice would you give to someone who is thinking about starting running for the first time or making a change to a more healthier lifestyle?
AH: Do it. Don't think about it. You won't be sorry you started. But take it easy. There's a tendency to try and do too much too soon when you're new to running but that can end in injuries and a resentment for running. So take it steady and build up, little by little.
RWL: Favourite parkrun course?
AH: Bradford Lister Park – I credit it for my best ever 5k race PB. Three times up the 'teeny tiny hill' on a weekly basis is amazing for your endurance!
RWL: Got to love the hills.
AH: Whitley Bay Links is another favourite for being by the sea
And Fountains Abbey is absolutely stunning.
RWL: Current parkrun PB?
AH: 22:42
RWL: Favourite event distance?
AH: I don't know that I have a favourite. I love everything about race day – even the nervous butterflies. I do love a half marathon at the moment.
RWL: Favourite running event?
AH: Again, I don't know I have one. Each of them are special to me for their own reasons. I've never been to a bad running event, put it that way!
RWL: Miles or KM?
AH: Miles for me. Although having run Berlin Marathon with a Frenchman pacing me doing everything in KM, along with the distance markers, I'm tempted to switch, as the KM's tick by much more quickly than miles do!
…WITH LESS
RWL: Are you aware of Minimalism or Simple Living?
AH: It's not something I personally practice. I probably should. But I am a big fan of just going for a run without taking loads of stuff…if that counts?
Big fan of 'quiet running'. It's a practice I read about in an article once that I think came from an Australian coach. It's when you listen to your footsteps and get into your breathing rhythm through your gait.
Also listening to how heavy you are on your feet and making a conscious effort to land lighter. They claim it assists in injury prevention. I especially do this at track nights when I'm focusing on pacing reps. I use my watch less and less for the time and run to effort / feel.
I also do runner's yoga (not as much as I should) and have improved issues with my hip which resulted in a couple of painful injuries (ITB and Hamstring Tendinopathy) through stretching Hip Flexors through yoga.
And simple running with no music (although I love putting those TRC playlists together) means I often have more creative ideas while I'm out as I have the headspace to develop them and think about them in more depth – only difficulty being remembering them after because I've no where to write them down en-route! ?
RWL: For writing ideas down mid-run, I use an app called Evernote. You can record voice notes and open a plain text editor and keep your notes together.
AH: Great tip for Evernote. I used to use that for my old work, but on desktop. Didn't realise that you could do voice notes in it ?
"I love how running gives you the time and space to think and sort ideas. It sparks a lot of Creativity".

Anna Harding
RWL: What do you think about finisher T-shirt and medals? Keep all or curate the best ones?
AH: Medals, keep all. Definitely. I am so motivated by my medal board, and race numbers.
Race t shirts…I'm not so sure about. They didn't have one at Berlin Marathon. And I was ok with that. But then I finally broke 4hrs on the 4th time of asking and it felt really special, so I bought one post-race at a stand near the finish area. I've maybe worn it twice since in 5 months ? But there are plenty I've never worn since. Unless I've been lazy with the washing and it's got that desperate I'm digging out the bottom of my drawer.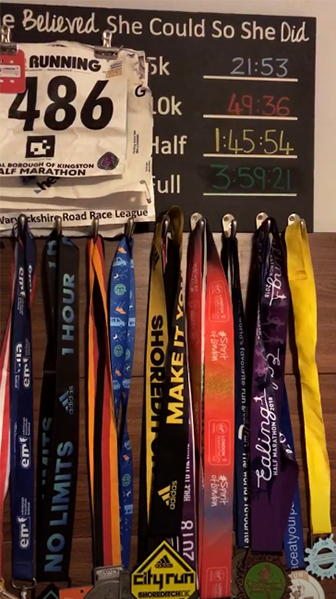 There are more! They're just on display in our indoor filming 'set' at work ?
RWL: What one possession is most treasured and sparks the most joy?
AH: I'm not really a 'things' kind of person. I much prefer experiences. I don't know that I own any item that would 'spark joy'.
RWL: How do you make your life simpler?
AH: I wish I could! I am one of those people who books in so many things that they're always dashing around from one place to the next. My diary is very full and I have to rely on it heavily. I hate it when I double book, which is rare, but so annoying when I do it.
RWL: What one book has had the most influence or impact on your life?
AH: When I first started running I read 'This Girl Ran' by Helen Croydon. It's about a party girl journalist who finds running and eventually triathlon and honestly, aside from the triathlon bit, I genuinely thought it could've been written about me. I usually read fiction books about crime – James Patterson's a firm favourite of mine.
RWL: How do you make time and space in your life for the important things and the things that matter most to you?
AH: I am terrible at overbooking myself. I say yes to almost everything, which can mean I end up dashing here, there and everywhere to please everybody and be everywhere. I'm rarely at home and I rarely stand still!
RWL: Tell me more about the Running Channel?
AH: The Running Channel was an idea that was pitched to me while I was still working in radio and I absolutely loved it. Having spent weeks and months googling everything I could about 'how to run' in the lead up to my first marathon, the idea of having it all in bite-sized video format was brilliant!
So I jumped at the chance to get involved, quit my job and here we are! We've been live for 6 months now and the reception to it has been awesome!
I was a little apprehensive at first that we might get the odd nasty comment here or there, but honestly, it's been incredibly well-received. I come up with ideas for videos, write scripts, get them checked over by proper runners (we have a sub 3 hour marathoner and an Olympian helping us out with that) and then go out and spend a couple of days a week filming in parks talking about running. It's amazing!
I also run all of our social media channels and am constantly on the look out footage to turn into little videos about all aspects of running. I really want The Running Channel to become not only a resource for runners of all abilities, but a community too.
RWL: Is the Running Channel your first time in front of the camera?
AH: Sort of, yes. As I mentioned, I studied broadcast journalism at university, which was radio and tv. So I did a few student projects in front of the camera, but I chose to specialise in radio – my family always told me I had a face for radio! Making the move across to being in front of camera was really daunting. I'd always panic on filming mornings and spend ages over my hair and make up. But now I realise that those things aren't important and I'm less concerned about what I look like in the videos. I'm just me. I wouldn't worry what I looked like when I was running, so The Running Channel shouldn't be any different.
RWL: What part of the show has been your favourite to make, so far? I really enjoy the interviews with guests whilst running, Vassos Alexander and Alistair Brownlee were both great guests.
AH: Yes, our Running With series is a lot of fun to film. Ali Brownlee was great! We had a good old natter off camera about all our favourite spots to run in Leeds – he often trains along the canal that I used to run-commute on!
RWL: What is it like working on the Running Channel?
AH: Working on The Running Channel is bonkers. It really is so mad. The other day we spent the morning traipsing around London with Kate, one of our other presenters, dressed in a panda costume, getting shots of her on the tube etc. (She's running the London Marathon this year in a panda outfit, so we were filming something about how to be a Guinness World Records holder!) It seems mad that that is work!
RWL: The outtakes and skits at the intro of the show are funny. It looks like you all have a lot of fun making the show?
AH: It's so much fun. Our videographer Tom and I spend a lot of time together and it helps that we really get on. When Rick, Kate and I are all filming I have to be the one cracking the whip and keeping everything on track though – we can get carried away at times!
RWL: Who is the better runner, you Rick or Kate?
AH: Ouch! Controversial question. The obvious answer is Kate. She is a phenomenal runner. I am so in awe of her achievements. She's incredibly quick and also very dedicated. Rick is desperate to beat my parkrun PB so he can brag about it, but I'm very competitive, so I'm not going to let that happen if I can help it!
RWL: What advice would you give to someone starting their own creative project or YouTube Vlog?
AH: The main thing is to do it about something you are truly passionate about. And the other piece of advice we were given when we started out was to be consistent with uploading new content. That's why you'll find new videos on the channel every week.
RWL: You can add one word onto the end of the phrase 'Run With Less'. What would you choose?
AH: One word?? Tough!
Clothing!

I see so many people it overdressed for the weather! Run as if it's 10 degrees warmer than it actually is!
RWL: Great answer, I own one set of running clothes all in black. One pair of running shoes for training and one for race day. That's it, my washing machine is very busy
AH: Don't only wear the race day trainers on race day though. Nothing new on race day.
RWL: Where can people find you online?
AH: I'm on Instagram as @anna.the.runner and Twitter as @anna_harding. But if you want to see more Running Channel stuff than dogs on tubes we're @runningchannel on Instagram and Twitter. We're also on Facebook as @officialrunningchannel and of course, YouTube!